About Lake Josephine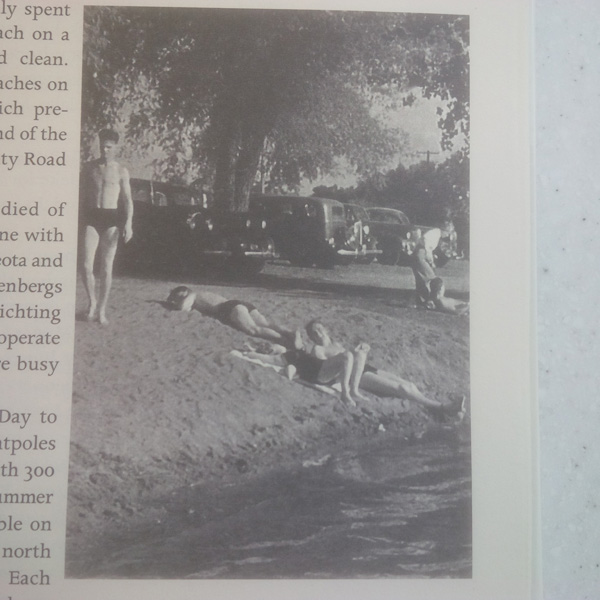 Taken from Roseville Minnesota: THE STORY OF ITS GROWTH VOLUME TWO
Published by the Roseville Historical Society in 1998
Josephine Beach
Lexington Avenue
Sometime before World War I, Fred Schlichting sailed from Germany to the United States. He told his grandchildren that he sailed with a shipload of canaries, which were noisy. Whether he traveled as an attendant for the canaries is not known but the grand-children remembered that he raised canaries in large cages on his front porch at the lake and sold them for $5.00 each.
Fred was married to Theresa and set up business in a butcher shop on University Avenue in St. Paul. They were parents of three children: Fred Jr., Clara (married Walter Uhler) and Pauline (married Albert Muggenberg). By about 1920 Fred had done well enough in business to buy a summer home on a lake close enough to the city so he could commute to work.
Fred purchased twenty-four acres on Lake Josephine in Section 3 of Rose Township. The property had 800 feet of lake front on the southeast end of the lake, the portion of the lake in Rose Township. Lexington Avenue was a winding gravel road that bisected his property. Little Lake Josephine lay in the swampy area on the east side of the property. In dry years that land raised a good crop of hay that was cut and sold.
Schlichting build a house on the east side of the road with four large rooms downstairs plus a screened porch. The upstairs was unfinished and served as a dormitory for the five granddaughters who spend their summer with their with their grandparents. A small building next door was always called the "Cracker Box" and here Schlichtings sold ice cream, beer and canned goods to local residents. On the lake shore the Fred Schlichting Jr. family built a house and next to it two cottages, one of which he rented out for the summer months.
By 1931 hard times had come to Minnesota and the nation. Additional income from the lake property was possible by opening a beach along the lake shore.
Sand was hauled from Schiely's Sand and Gravel business. A bathhouse-snack bar was built near the waterline with a dock out into the water. Several rowboats were available for fishermen.
The Albert Muggenberg family spent their summers operating the beach on a lake that was always clear and clean. There were two other private beaches on Lake Josephine: Kowalske's, which pre-dated Schlichting's, at the south end of the lake, and Harris' Beach near County Road D and Lexington Avenue.
In 1935 Albert Muggenberg died of peritonitis and left his wife Pauline with three teenage daughters: Lilah, Leota and Jo. A house was built for the Muggenbergs in the woods northeast of the Schlichting home. Pauline and Jo continued to operate the beach. The older two girls were busy with other activities.
Life was busy from Memorial Day to Labor Day, 8 AM to 11 PM. Two lightpoles were installed on the beach house with 300 watt bulbs for visibility on late summer evenings. A picnic area was available on the grassy tree-shaded area on the north side of the beach. Prices were low: Each car load paid ten cents for driver and one passenger; additional passengers paid five cents each, as did walk-ons. Dressing rooms in the beach shack were ten cents, and included a basket to place folded clothing, watches, keys, billfolds, and other items. Baskets were lined on shelves in the snack bar portion of the shack. Swim suits, which rented for ten cents, were cotton, one-piece outfits that sagged and were clammy out of the water. Toilet facilities were in an outhouse at the far south end of the property.
Each morning the beach was raked to remove debris, boats were cleaned, grass was cut with a hand mower, the supplies on the snack shelves restocked, and dressing rooms swept out. When people arrived, Jo parked their cars, rented equipment and served as life guard. It was hard work but successful if the summer provided twelve hot days. The income from a hot day was enough to live on for one winter month. The cottages were rented by the season: $200 for the small house near the lake, $300 for the larger cottage on the hill above the lake.
The beach was closed in 1941 when World War II gas rationing prevented drives to the lake from a swim or picnic. Lilah and Leota were married. Pauline and Jo continued to live in one of the cottages, renting the other. The Schlichting home and the Cracker Box were also rented. Though the beach was closed and business ended, fishermen still climbed the fence and took boats on the lake, without permission or payment.
In the mid-1950s the Muggenberg daughters attempted to build homes on their property but could not get permits to do so. The Ramsey Country Commissioners were expanding their beaches and planned to build on Lake Josephine. An offer was made to the family in 1958 which they protested in court as unfairly low. A small additional amount was awarded and the family ordered to vacate, which they did on October 15, 1959. They left all the buildings furnished but sold all seven boats for $5.00 each. Two of the daughters build homes near each other in Roseville but regretted the loss of their beach property, which they remembered with fondness and sorrow.
Kowalske's Beach
On Lake Josephine
Georg and Ida Kowalske bought property on the south shore of Lake Josephine at 1225 Lake Josephine Road and opened a private beach at the back of their property about 1910 and operated it for fifty years. The Kowalskes had two children: George Jr. who married Margaret; and Gertrude who married John Wagoner. The Wagoners had two daughters Linda W. Wallvand and Jackie Herzog. All of the family lived at the beach, helping with the operation.
Although admission to the beach was probably 10 cents in the first years of operation, it reached 25 cents by the 1950's. A locker (or basket) for clothing and valuables was 15 cents. Eleanor Hamm and Francis Starr remember the homemade ice cream and the popcorn. The beach had a sandy, sloping bottom and a water wheel and lfloat for the enjoyment of the youth. If there was any rowdiness in the water, Gertrude blew her whistle from the front porch of the house where she sat watching proceedings. One neighborhood youth recalls losing his class ring while diving from the float. It lies on the bottom of the lake to this day.
The Kowalske beach was a short distance south of the beach owned and operated by the Muggenberg family from 1931 to 1941. Swimmers on each beach could clearly see and hear each other but the lake was large enough that each group largely ignored the other.
The History of Lake Josephine, as recounted by Maribelle Cushman, longtime resident and historian – link to the word document when you click on History.
Public Beach: Lake Josephine County Park or do you think this one is better?
Map, Distance & Directions to Lake Josephine
Lake Josephine is located along Lexington Ave, just south of County Road D – and directly across from the beach is the DQ – bounded by 2 counties (Arden Hills and Roseville in Ramsey County). Lake Josephine is 116 acre of surface with two miles of shoreline surrounded by private homes. The Lake has a maximum depth of 44 feet. The lake is part of the Rice Creek Watershed. Water flows from Little Josephine to Josephine to Johanna to Long Lake then into Rice Creek.
The lake is a lifeguard public beach (Please visit public beach) with life guard services available from June 6 to August 16. Lake Josephine County Park overlooks Lake Josephine with facilities that include a boat launch, beach, picnic area, play area and fishing pier.
Public boat access is located at the north end of the county beach of Lexington Avenue with a concrete ramp for 6 car/trailer parking.
Residents and visitors can take advantage of the unique opportunities for shopping and entertainment in Minneapolis and Saint Paul.
Lake Josephine was diagnosed with an aggressive invasion of Eurasian Water Milfoil in late 2012. It's a contamination that cannot be eradicated, and requires aggressive and ongoing treatment to control. Left unchecked, it can overtake a lake, making it unnavigable by boats and unsafe for swimming and water sports. It will also negatively impact property values. We treated in 2013 and the spring/summer of 2014 to contain the spread.
Watercraft Rules and Regulations
Speed limit 40 mph
Boat ramp hours: 5:00 am to 10:00 p.m.
Personal watercraft operating hours: 9:30 a.m. to one hour before sunset.
Slow no-wake zone within 150′ of shore.
Motorized watercraft shall only travel in a counter-clockwise direction except when operating at a slow no-wake speed.
Motorized watercraft or person being towed shall not pass between a raft and the nearest shore when a swimmer is present.
Operation prohibited in designated swimming areas.
Operating a personal watercraft at greater than slow no-wake speed within 150′ of any shore, dock, swimmer, raft, moving or anchored watercraft, or any non-motorized watercraft is prohibited.
Based on provisions of City Ordinances and State Statutes: Park Ordinance enforced by the Ramsey County Sheriff's Department. Call: 651.484.3366
Public boat access is located at the north end of the county beach of Lexington Avenue with a concrete ramp for 6 car/trailer parking.
Fishing is permitted for the shore and there is also a fishing pier at Lake Josephine Park (should be a link that takes you to a map), where many local residents swim, picnic or fish.
Fishermen will find a variety of fish including Northern Pike, Walleye, Black Crappie, Bluegills, Largemouth Bass, Catfish, Common Carp, Bream, Bluefill, Green Sunfish, Hybrid Sunfish, Pumpkinseed Sunfish, White Sucker, Yellow Bullheads and Perch. In the winter Lake Josephine is a favorite for pike spearing through the ice. Walleye fingerlings have been stocked to improve angling opportunities for this popular game fish.
Here –(Agent Image – please include the Lake Josephine Fish Facts grids from the Lake Breeze 2014 edition)
For Fishing License purchase, fishing rules, and fishing regulations please visit Minnesota Fish &Wildlife(Agent Image – this is the link: http://www.dnr.state.mn.us/index.html )
For more information please visit the Minnesota Department of Natural Resources site and
DNR and Rice Creek Watershed Reports
DNR and Rice Creek Watershed Reports
Lake Josephine Water Clarity
Intuitively, many of us judge the health of a body of water by its clarity. If we can see the bottom of a lake or some distance into its depth – it's clean; if we cannot see the bottom, even in shallow water – it's dirty.
Following that same principle, a Secchi measurement is used to determine water clarity. A disc is submerged into a body of water, then the depth at which it is still visible to the human eye is measured.
Below are recent statistics from Ramsey County reviewing some of the lakes in our area. As shown, Lake Josephine is relatively clear, scoring in line with Lake Owasso and Lake Gervais.
(Agent Image – in the Lake Breeze Summer 2014 addition page 5 please take the Ramsey County Data grid and put in this area)
For more information please visit Lake Water Clarity Report and http://lakes.gis.umn.edu/#62005700
Lake Josephine Water Levels
Normal water level for Lake Josephine is just under 884.5 ft. As shown, water levels have fluctuated by 1-2 ft. over the past 10 years.
(Agent Image – in the Lake Breeze Summer 2014 addition page 6 please take the Ramsey County Data grid and put in this area)
For more information please visit Lake Water Level Reports