Lake Facts
Location and Size
Lake Josephine is located along Lexington Ave, just south of County Road D bounded by 2 counties (Arden Hills and Roseville in Ramsey County). Lake Josephine is 116 acre of surface with two miles of shoreline surrounded by 68 private homes. The Lake has a maximum depth of 44 feet. The lake is part of the Rice Creek Watershed District (RCWD). Water flows from Little Josephine to Josephine to Johanna to Long Lake then into Rice Creek.
Lake Josephine County Park is located in west-central Ramsey County in the city of Roseville. The park is comprised of two distinct segments: the 9-acre Lake Front Recreation Area, west of Lexington Avenue, and the 65-acre Little Lake Josephine Segment, east of Lexington Avenue. The 74-acre park is bounded by County Road C-2 on the south, Chatsworth Street on the east, County Road D on the north, and Lake Josephine on the west.
Site Characteristics
The park includes about ¼ mile of shoreline on Lake Josephine, a 116-acre lake. The part of the park between the lake and Lexington Avenue is developed for recreational use. The area of the park east of Lexington Avenue is a natural area surrounding Little Lake Josephine, a 40-acre deep marsh.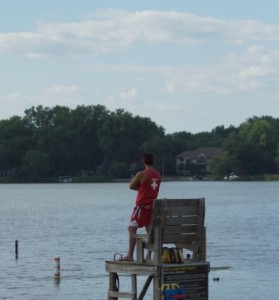 Lake Front Recreation Area
This segment of the park includes a public boat launch facility on a concrete ramp and parking for 6 car/boat trailers and 6 car-top boat spaces and a central picnic area with a 25-car parking lot and a lifeguard public beach area/picnic area with a parking lot for 109 cars. Life guard services are available from June 6 to August 16. The area also includes a play area, beach building and fishing pier. And, directly across the street from the beach, on Lexington, is the Dairy Queen.
Little Lake Josephine Segment
A 1 mile unpaved hiking trail encircles Little Lake Josephine.
Natural Resource Management
The storm water generated by the parking lots in the southern half of the Lake Front Recreation Area is processed through a 3-cell rain garden located at the south end of the segment. The rain garden is designed for water infiltration and is landscaped with plant material designed to thrive in various moisture levels. Ongoing maintenance of the rain garden is necessary to maintain the integrity of the plant materials and eliminate volunteer woody plants. The area within the Little Lake Josephine Segment is managed and maintained as a natural area. A small prairie remnant is burned periodically to maintain the prairie integrity. For more detailed information please see the following Natural Resources Management Plan.
Eurasian Water Milfoil
Lake Josephine was diagnosed with an aggressive invasion of Eurasian Water Milfoil (EWM) in late 2012. EWM is an exotic aquatic invasive plant which grows very rapidly and spreads very quickly and easily. It's a contamination that cannot be eradicated, and requires aggressive and ongoing treatment to control. Left unchecked, it can overtake a lake, making it unnavigable by boats and unsafe for swimming and water sports. It will also negatively impact property values. Today the Lake Association, with guidance from our Minnesota Department of Natural Resources (DNR), Rice Creek Watershed District (RCWD) works diligently at controlling the EWM through extensive chemical treatments with our treatment vendor Lake Management Inc.
The background information on Lake Josephine County Park and Lake Josephine were taken from 2008 Natural Resource Management Plan and the 2006 Parks and Recreation System Plan.